Facilities for development of medicinal and aromatic plants sector
Largest germplasm of lemongrass (Cymbopogon flexuosus) with 400 accessions
Germplasm collection of vetiver, citronella, cinnamon
Herbal garden with a collection of about 450 medicinal plants that are used in ayurveda, tribal and folklore medicine systems
Medicinal trees conservation park having about 110 species of rare and   endangered tree species  
Regional Analytical Laboratory for quality standardization and evaluation of medicinal plants, aromatic oils, crude drugs and drug formulations
Bioactivity laboratory for intensive research to identify new biomolecules from plant sources for human and plant health care   
Seed production plots of aromatic and medicinal plants
Distillation unit for bulk distillation of essential oils with a capacity of 500 Kg at a time
Training centre with residential facility for imparting training to farmers, entrepreneurs and extension personnel on medicinal plants and allied subjects.
Knowledge centre on medicinal and aromatic plants 
Library of medicinal and aromatic  plants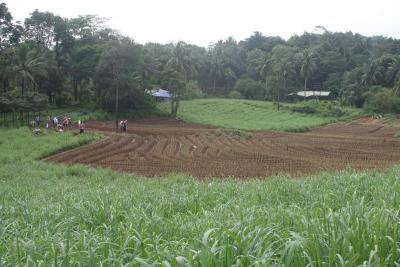 Farm: A well laid out farm of 12.5 ha for conservation of germplasm, field experimentation, bulk cultivation of mandate crops.
Steam Distillation unit: A facility for bulk distillation of essential oils with a capacity of 500 Kg at a time.
Sub-surface dyke: For ground water conservation
Vermicompost Units: 6 Nos.
Class B Meteorological observatory